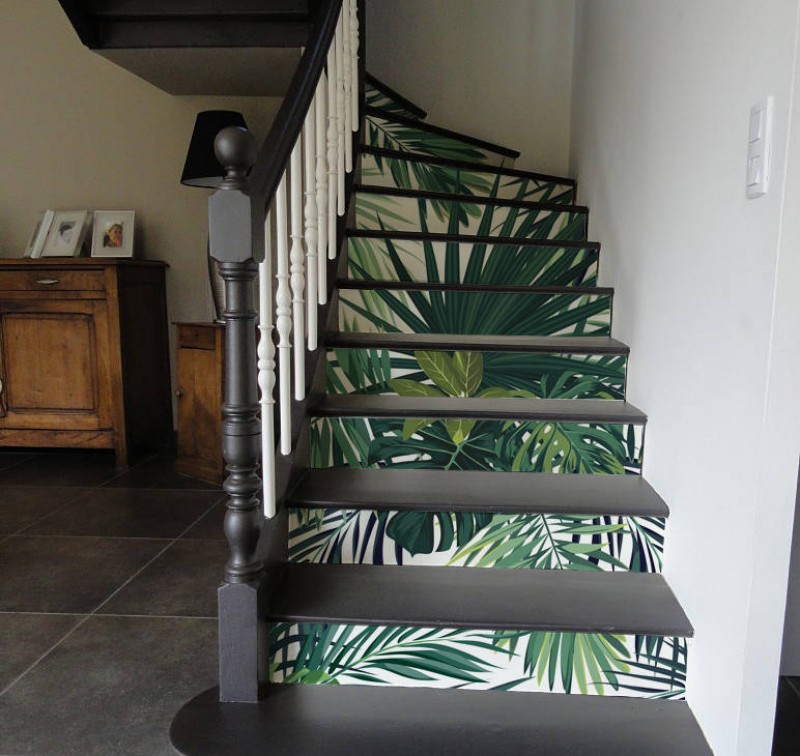 zoom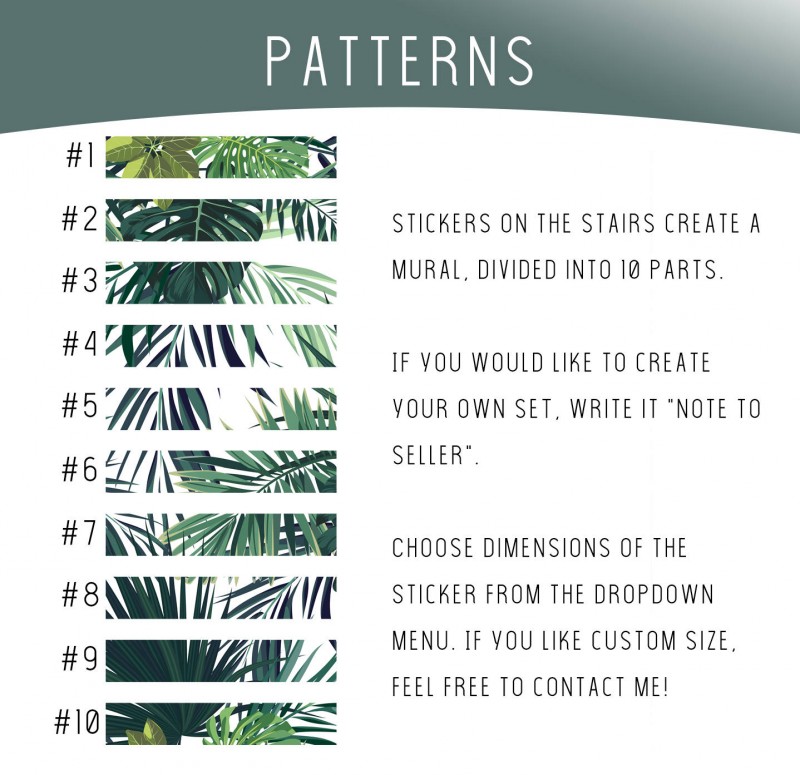 zoom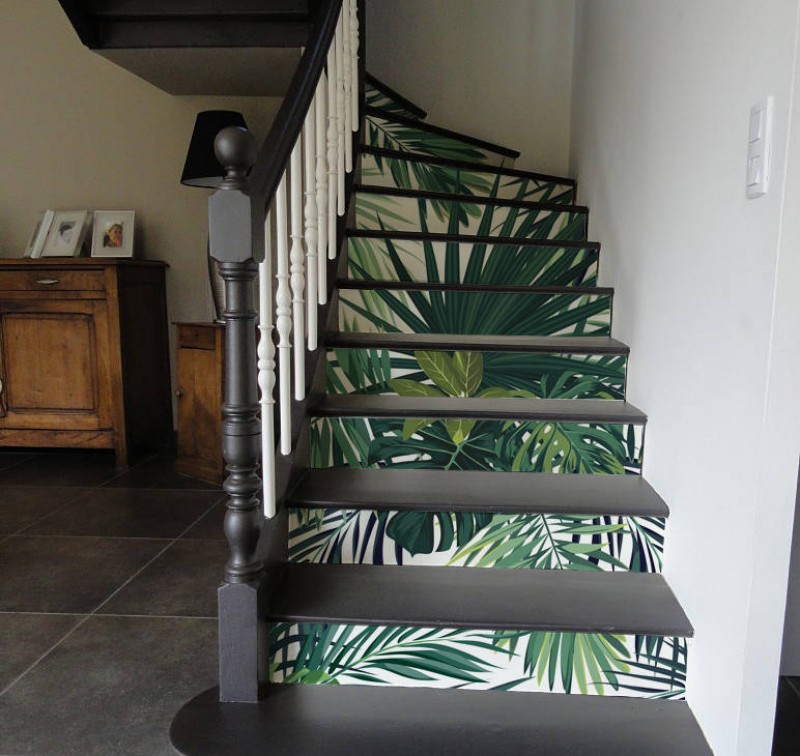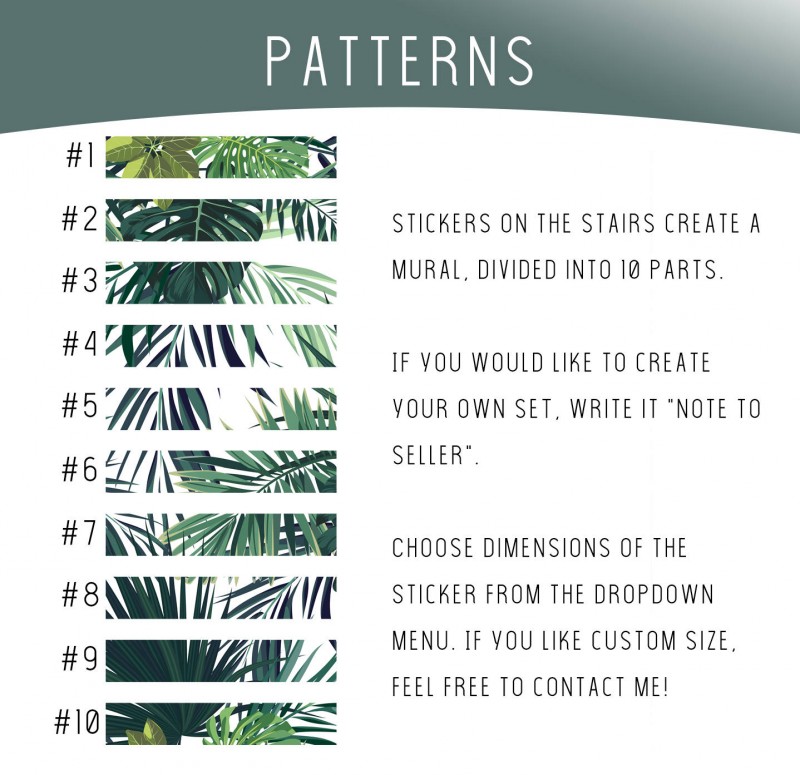 tropical leaves
Stair Decals
Risers height
5.0" (12,7cm)
5.0" (12,7cm)
5.5" (14cm)
6.0" (15.24cm)
6.5" (16.5cm)
7.0" (17.7cm)
7.5" (19cm)
an extra strip (1pc)
For You Just
USD 0
incl VAT
In Stock Delivery within 3-4 days
Add to list
Remove from list
Innovative Peel&Stick material, which alows to be applied and peeled multiple times!
Digitally printed, removable with matte finish
Sticks to any flat surface
Product information:
Stair Decals tropical leaves
Stair Decals tropical leaves are a awesome idea to give a new look to old stairs. When you find your stairs dull and unpleasent to look at, check the design you like and order the Stair Decals tropical leaves from our webstore. Stair Decals tropical leaves are nice and simply-to-put stickers which you can put on your stairs. Now you can enjoy the new look of your house or studio. Stickers for walls or stairs just like the Stair Decals tropical leaves are a great and simple way to change the whole look of a house without doing an overhaul or total renovation. Sticking-on and unsticking Stair Decals tropical leaves is dead easy so you can change the look of your stairs anytime you want.
We sell Peel&Stick removable decals for stair risers! Material we use is resistant to tearing and creasing, a matte and self-adhesive. You can apply it by yourself and clean it using a dry cloth. You can remove it and reapply it in another location as many times as you like.

Those decals are great solution to change the look of existing star risers!

Set includes 10 strips that cover 10 steps, each strip measures 47" (120cm). If you wish, you can add an extra strip for $15.

You can design your own set. Contact us and give names of the patterns you would like to have and an amount.


SIZE

You can choose height of the strips on the list. If you would like to have the sticker printed in other dimensions, let us know!

Standard heights to choose:

- 5.0" (12.7cm)

- 5.5" (14cm)

- 6.0" (15.24cm)

- 6.5" (16.5cm)

- 7.0" (17.7cm)

- 7.5" (19cm)


CUSTOM ORDERS
We make custom sizes for FREE :)
Please contact us with your sizing requirements.

Eco Certificate:
I use a state of the art GreenGuard-certified HP LATEX III generation printer to not only ensure the highest quality, but also guarantee that the product you purchase is environmentally friendly and complies with the most stringent safety standards.

If you have any questions, please feel free to contact us!

MONEY BACK GUARANTEE:
All items are made to order but we really want to offer you piece of mind and good service. If for any reason you decide you don't want your item, even if you've simply changed your mind, send your unused item back for a refund. Refund does not include shipping and does not apply to custom orders.