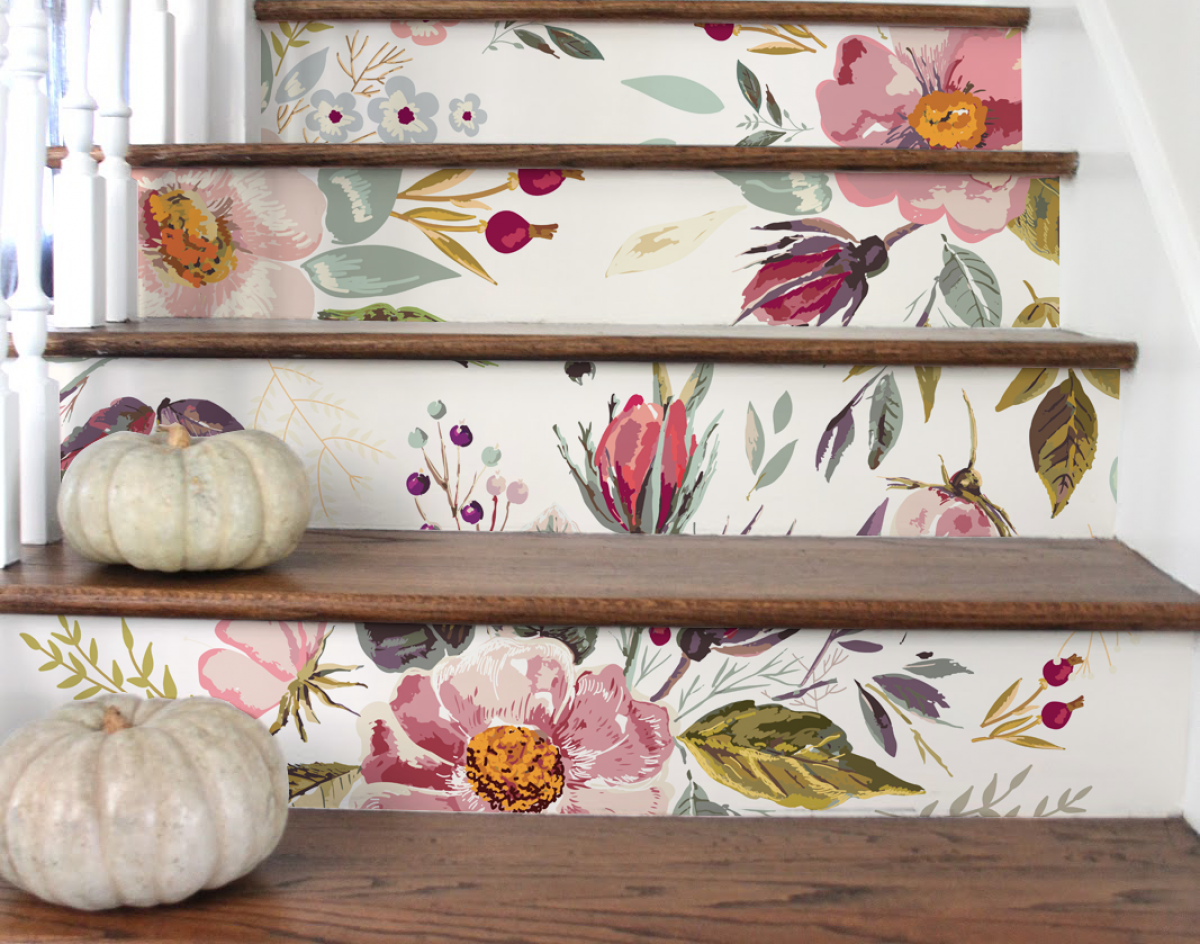 Stair ideas without carpet - try a stair decals
Are you tired of cleaning your staircase? Imagine that you're sitting in your hallway whole day and cleaning your staircase and the time passes, and passes and you're still not even close to an end. And finally you are exhausted and frustrated. Reality could be different. Think about using stair decals and spend more time with your family rather than on home cleaning.
Our stair stickers are really something! They're colorful and removable so you can get rid of them anytime you want to. With our reusable stairs stickers you can change your home everyday!
Choose your favourite stair decal and create an unique look:
If you have black and white home decorations this one would be perfect. Delicate but elegant roses sketch will look amazing in modern hallways. B&W trend is strong this year in home decor, so let's start your own home deco using my stair decals.
Hey, it's still summer! Why don't redecorate your sttairs with wildflowers from a sunny meadow? Colorful, little flowers will add a little bit of romantic to your home.
If you like blue flowers and also a blue decor you will be delighted with this stairs decal! Watercolor blue flowers will help you to create a very unique mood.
OK, so we have a decorated stairs. What about doors? Think aboout the oil hanprints, dirty smudges and boring door decor. Have you ever thought about the doors stickers? Let's have a look for some awesome door decals:
1. Let's go on a trip to Paris!
Bon jour! Who does'nt like a croissanr and fresh coffee in the morning? Now you can have your petitte Paris in your home! Let's try a little bit of french wine and go to the Eiffel Tower this summer!
2. Soft kitty, warm kitty, little ball of fur
I have something fab for a cat lovers! Look at this sleepy kitten! It's so cute and charming that you want to hug it immedately is'nt it? Kitten can be yours just now!
3. Exotic Parrots - feel the African breeze
It's summertime and everybody wants to rest under a palm trees, listening to the sparkling water and birds singing. This door decal is perfect for all th eAfrica-lovers. Bring some exotic to your home!
Here are some inspirations for you. If you are looking for something else, check out the gallery.
---
HOW TO DECORATE CHILD'S ROOM IN SUMMER

KITCHEN UNDER CONSTRUCTION – SUMMER HOME DECOR FOR LITTLE GIRLS AND THEIR MUMS