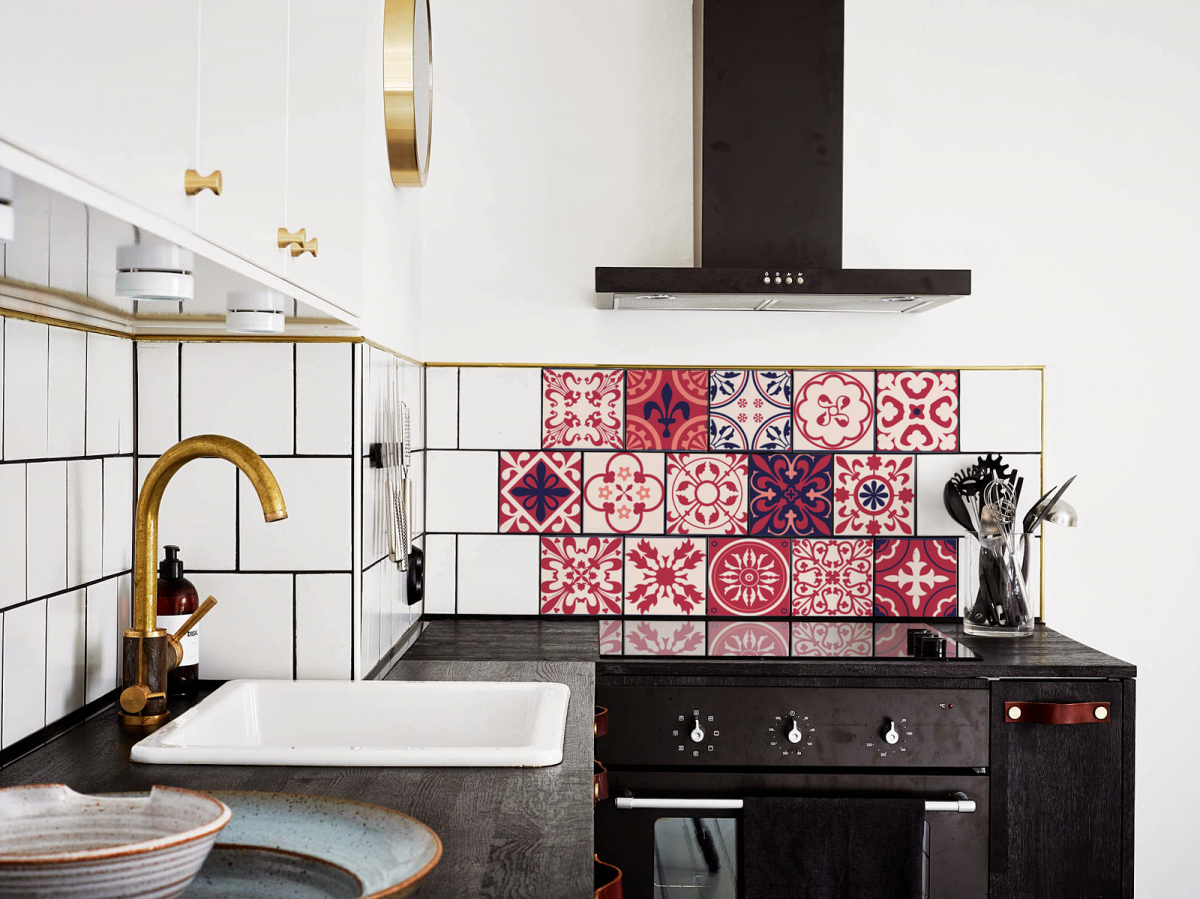 Kitchen under construction – summer home decor for little girls and their mums
Kitchen is the most visited place at home everyday! Coffee in the morning, lunch in the afternoon and dinner in the evening. In the meantime (especially in summer) we are searching for something cold to drink in fridge. Why not to change some everyday routine without any effort?
How about a minor but spectacular transform in your kitchen? Let's have a quick look fo some of my Tile Decals:
If you like vibrant reds and geometry mosaics you wouldn't regret to choose this one. Moroccan Tile Decals will look amazing in black and white interiors – used as a strong accent. Think about how well it'll match the Indian food!
2. SUNSET AND FLAMINGS TILE DECALS
This model is combined with everything summer holiday are made of – pink flamingos and beautiful sunsets! How do you like it? Sunset And Flamings Tile Decals look good with wooden (or beige) furnitures and in vivid interiors.
3. STREETON GOLDEN SUMMER SPRING TILE DECALS
Did you remember being a child when your parents took you to grandparent's home? Those fields full of corns and oats, pretty blue sky and the taste of fresh bread with butter… Sounds nice, isn't it? Check my Streeton Golden Summer Spring Tiles Decals out and bring your memories back!
Nowdays little girls - thanks to IKEA Duktig line - can have their own kitchen too! I would like to show you some inspirations of IKEA Duktig Decals:
1.PURPLE VINTAGE FLOWERS IKEA Duktig Decals
If your little girl likes to play outside, she would definately love this Purple Vintage Flowers IKEA Duktig Decals. It reminds me of summer meadows full of wild flowers in bloom. Can you smell their scent?
2. WATERCOLOR POPPYSEED IKEA Duktig Decals
Poppyseeds growing everywhere are the best signs of summer! They are in bloom after heavy rains and are such a pretty decor for a bright interiors. Use Watercolor Poppyseed IKEA Duktig Decals in your home and gain the perfect midsummer look!
3. PALM LEAFS IKEA Duktig Decals
Are you looking for some refreshment these hot days? You have just found it! Green Palm Leafs IKEA Duktig Decals will make your girl feel more refresh during hot days and bring a peaceful nature element to your home.
---
PEEL AND STICK WALLPAPERS AND BLUE FLORAL MOTIFS