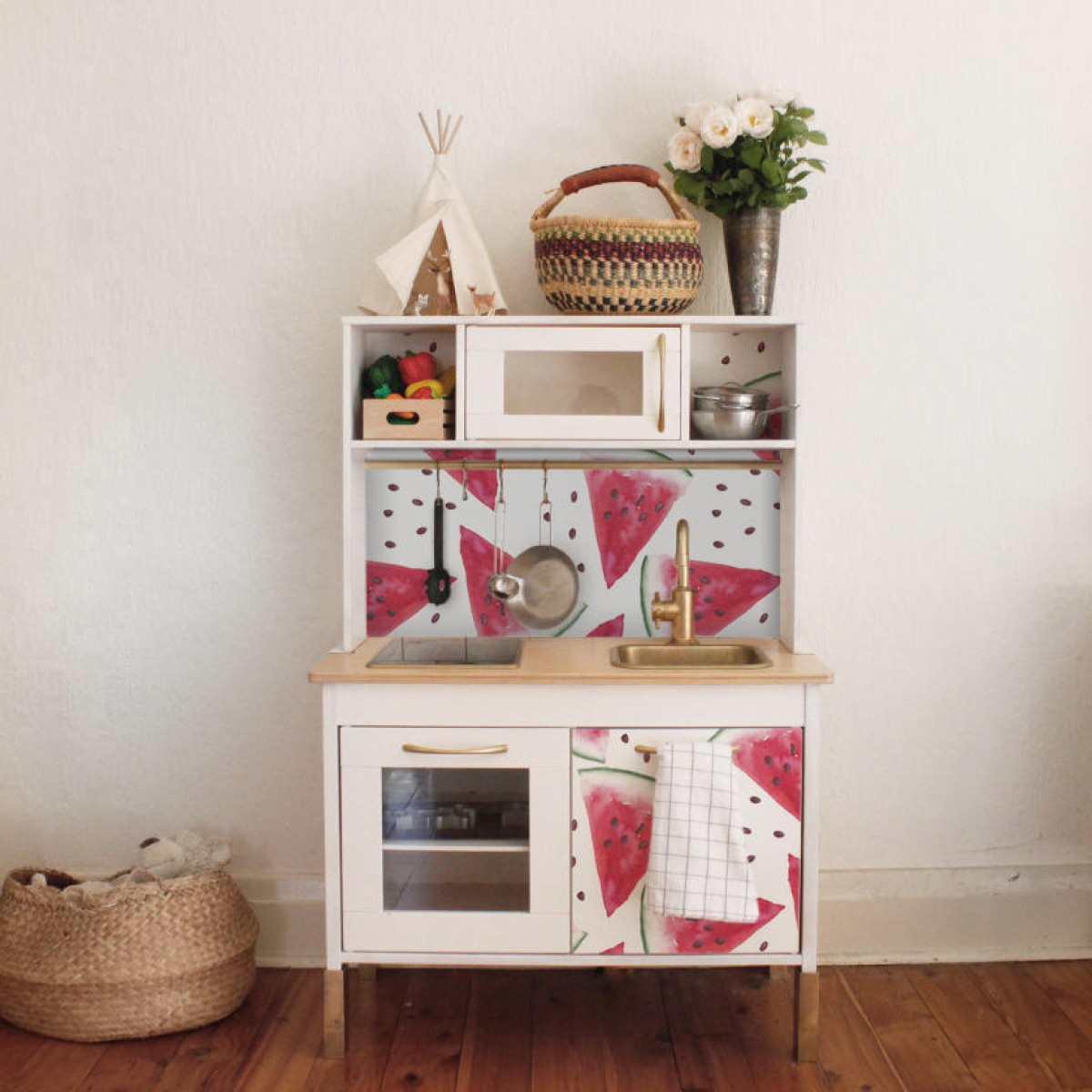 How to decorate child's room in summer
Summer is peeping around the corner. Why not to make some changes in the nursery? Your children would love the eye-catching, fruity watermelon decals on their Ikea's kitchen! Give your child's room some summer vibes and refresh their Ikea's kitchen without worrying about smudges and dirt. Fruit watermelon stickers are perfect match for this suny season - your child would love them!
Ikea Duktig stickers are easy to clean - you don't need to worry about some dirt spots. They are easy to remove without any scratch on the furnitures - a dry cloth will do the job. Your child would love the bright and vibrant colors of the Ikea Duktig decals. It's a perfect way to change your child's bedroom for this summer.
If you don't like watermelon design you could choose some other juicy and fruity options for Ikea's kitchen:
1. WATERCOLOR WATERMELON DECALS
This pattern is perfect for a girl's kitchen. Juicy and fruity watermelon stickers brings summer to your home. If you want to make a quick change in your nursery without much effort try our Watercolor Watermelon Ikea Duktig Decals. And, to be honest, do you know someone who doesn't like watermelon sorbet?
Pinacolada is sweet and tasty, especially with some summer fruits and some ice-cubes. With a gentle help from mom your child would prepare tasty summer drink in their Ikea's kitchen. If you like vivid colors and sharp patterns you would love our Pineapple and Flowers Ikea Duktig Decals.
This pattern is subtle and gentle. If your girl has a romantic soul, she definately woould love our Summer Lemons And Flowers Ikea Duktig Decals. If you don't like luminous colors, this soft ethereal pattern would be a perfect match. Our material is resistant to tearing and creasing, a matte and self-adhesive.
Don't forget to check out other Ikea Duktig Decals in GALLERY
---
3 FLORAL KURA BED DESIGNS FOR MODERN INTERIOR